Great jumping off point for Koh Phi Phi
Ao Nang is a quiet beach resort town about 30 minutes drive from Krabi town and is one of our favourite places in Thailand. Once only visited by backpackers as a jumping off point for Phuket and the Phi Phi islands, it is slowly moving up market and now has some quite flashy hotels and lots of facilities, as well as some very cheap places to stay and eat.
Ao Nang is a place to kick back and relax, get a massage by the beach, stroll through the beachside shops, or grab a speedboat to Koh Phi Phi and do some snorkelling or scuba diving. Or just lay on the beach and work on your suntan.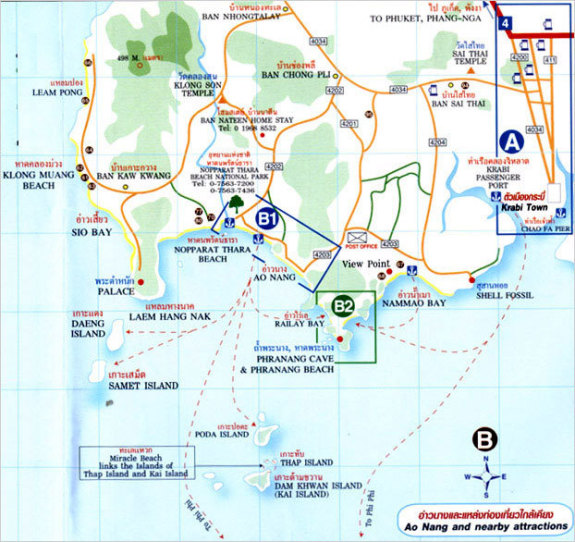 During the day it can be a bit quiet because most visitors are out on boat trips, but we hire scooters and go off touring around the nearby beaches and tiny villages, experience the local life and look for interesting places to eat. As the sun begins to go down, everyone starts coming out to enjoy the evening and there are plenty of bars, cafes and restaurants to suit all tastes.
One of the more popular places to eat is Wanna's Place on the beach front, which is popular for its home-style Swiss food. We tend to eat at Tonsai, which is a bit away from the beach heading up the hill towards Krabi. This place has great food, really friendly staff and awesome prices. But watch the curries as they can be very hot!
Where to stay in Ao Nang
When in Ao Nang, we stay at the Ao Nang Friendly Bungalows. It's not the easiest place to find as it's a fair way down Moo 2 which is off the main street about 250 metres up from the beach. But it is worth hunting this place down.
There are three main reasons we stay here.
(1) It's fantastically quiet and spacious, with very large rooms in a bungalow style – ie, each room is a separate building – with their own bathroom and a verandah where you can sit in the evening and have a quiet drink.
(2) It's incredibly cheap for Ao Nang – just 600B for an air-conditioned deluxe room in the low season, rising to 1200B in the high season.
(3) The owners are just such fantastic people. They're a muslim family who will do absolutely anything to help you. We rented a scooter off them several times and they just hand you the keys and a helmet as send you on your way. You can pay later.
So although it's a little way off the beaten track, I highly recommend it.
There are, of course, lots of other places to stay in Ao Nang and this search will show you the best of those:
[booking_pluginbox id="20923″]