Bangkok is still the most popular city to visit in Thailand, though sometimes I wonder why. It's crowded, frantic, the traffic is awful, it's hot and steamy and not terribly friendly. Yet it's also exciting, frenetic, full of interesting neighbourhoods to explore, with amazing shopping and nightlife, fabulous restaurants and hotels to suit every possible taste.
Even if you only spend one or two nights in Bangkok, just to enjoy the fabulous shopping and eating experiences, it's very worthwhile. Our Bangkok accommodation guide will help you to choose the right places to stay and explore. Hotel prices in Bangkok start at about 300 Bt (US$10) per night, but I can tell you that you won't like the places for that price! Reasonable quality accommodation starts at around 400 Bt per night (single dorm bed) or around 2,400 Bt ($80) for a couple. A good room in a 5-star hotel will set you back 4-5,000 Bt (US$150 a night).
Let's take a look first at where people stay in Bangkok, which hotels they choose, and why.
Khao San Road
Most backpackers and young travellers choose to stay in Khao San Road (sometimes just called KSR). It's not so much a street as a district covering a few blocks around Khao San Road itself. Khao San Road is full of seedy guesthouses and backpacker hostels, cafes and restaurants, bars and alleys full of stores selling surfwear, bongs and travel gear.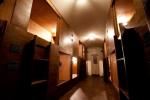 Young single travellers prefer to stay at Suneta Hostel Khaosan, a 16-bed mixed dorm hostel opposite the Banglamphu Department Store on Kraisi Road, about 300m off Khao San Road. The dorm beds are in private timber cubicles with a sliding door, which is more privacy than in most KSR backpacker hostels, but there's not much room for luggage which ends up in the walkways. Suneta Hostel has some private rooms with TV, but who wants to watch TV in Bangkok? Really?  What's that about? Dorm beds at Suneta Hostel Khaosan start at 440 Bt for an open bunk dorm, 590 Bt for a cabin style dorm and 520 for the female-only dorm. All are air-conditioned and there's free wi-fi for guests. Room rate includes a basic breakfast.
Phra Arthit
Young couples prefer to stay just a few hundred metres away from Khao San Road in Phra Arthit district, close to the Chao Phraya River. This is also our preferred area to stay in Bangkok, and we ain't so young. Phra Arthit is an easy walk to the food, shopping and facilities of Khao San Road but it's also a quiet haven to escape to at night when KSR goes a bit crazy.
Baan Chart in Rambuttri Alley is the most popular place to stay in Phra Arthit. Rambuttri Alley is a great place to shop, get a massage or grab a meal and it's the centre of nightlife in Phra Arthit. But it's also just two minutes walk from Khao San Road when you want something more exciting. A far cry from the backpacker hostels of KSR, Baan Chart has elegant private rooms, flat screen TVs, en suite bathrooms and an in ground pool as well as a restaurant and free wi-fi. The pool and bar are on the roof of the hotel and are a great place to relax. Because it's in the nightlife street of Phra Arthit and so close to Khao San Road, and because the music goes until 3AM, I find it too difficult to sleep here. Nevertheless, young couples seem to love Baan Chart and double rooms start at around 2200 Bt.
If you're travelling with children and want to stay near Khao San Road and the river, Smile Buri House is a good choice. It's located on Phra Sumen Road which runs parallel to Krung Kasem canal, about 500m from Khao San Road and about 200m from the Chao Phraya River. Smile Buri House has a choice of twin and trip dorm rooms and double rooms. It's not fancy, but neither are the prices with rooms starting at 900 Bt and up to 2000 Bt. For a family of 5, we booked at triple and a twin. It's much quieter here than on Rambuttri although the prayer calls from the nearby mosque are a bit disturbing at 5 in the morning. The rooms are a bit small, but there's a guest lounge to relax in when you're back during the day.
Bangkok Riverside (Rattanakosin)
Not far from Khao San Road and nearer to the river in Phra Arthit is the Bangkok Riverside precinct, with some of the nicest hotels in Bangkok but also some very nice budget accommodation too. The Chao Phraya River is the heart and soul of Bangkok and also one of the easiest ways to get around this busy city. The river express boats link to the Bangkok Skytrain, which will take you everywhere the river can't including some of the best shopping spots in Bangkok. Riverside hotels are generally laid back, peaceful and tranquil.
One of the most popular riverside hotels is Riva Surya Bangkok, nestled right against the river and with facilities that, for around $100 a night, will blow you away. This is no cheap guesthouse, but a solid 4-star hotel with river views from the balconies and an international restaurant called Bubble and Rum. The hotel's swimming pool, on the ground floor beside the river, is where it's all happening during the day and evening at Riva Surya Bangkok. But there's also the Phra Arthit night market just 100 metres away. Rooms at Riva Surya Bangkok start at around 3,300 Bt per night (US $110) for a double room with a city view and go up to around 5,000 Bt (US$166) for a deluxe or executive double room with a river view and balcony.
If you're looking for real luxury on the banks of the Chao Phraya River, the Shangri-La Hotel Bangkok is one of the very best hotels in Bangkok and right on the river. If you don't stay here, I guarantee you'll wish you did … you'll walk past it on the riverside boardwalk every day and admire its elegance and glamour, wondering how much it costs to stay there. Well let's break that ground straight up … rooms start at 6,800 Bt for a deluxe double and go up to 10-14,000 Bt for the suites overlooking the river. But the Shangri-La Hotel is pure indulgence from the dance and aerobic classes to the tennis courts, spa room and the chocolate boutique (seriously!). Angelini's Italian restaurant in the hotel is also well worth checking out, even if you don't stay here.
Another very popular riverside hotel is Inn a Day, a 4-star family-owned hotel created out of an old sugar factory, situated right right outside Wat Pho (Temple of the Reclining Buddha) and 600m from the Grand Palace. With rooms starting at almost 4,000 Bt (US$130) and going up to 9,000 Bt (US$300) for a family room, it's not a cheap hotel by any means, but it is fantastically positioned in one of the most interesting and exciting areas of Bangkok and has a style you just won't find elsewhere in this hotel-packed city. If you get the right room (on the top floor), you'll enjoy absolutely spectacular views across the Chao Phraya River to Wat Arun (Temple of the Dawn). The family who own and run Inn a Day look after their guests very well and make you feel like you're staying with friends. And the food is pretty amazing too!
One of the best budget backpacker hotels on the riverside is Glur Bangkok Hostel and Coffee Bar. It's probably one of the best situated Bangkok hostels too, within easy walking distance of Saphan Taksin station (for the Bangkok Skytrain) and Sathon Central Pier (for the Chao Phraya Express). A double bed in a mixed dormitory costs just 800 Bt per night including breakfast, while single beds start at around 350 Bt and also include breakfast. There's a bar and a-la-carte restaurant in the hotel and free wi-fi. But be warned that Glur Bangkok Hostel is not for families – they don't accommodate children at all. The hostel itself is modern and clean and the staff will help you organise onward bookings and tours if you want. Even if you don't stay at Glur Bangkok Hostel, drop in for some of the best coffee in Bangkok!
Bangkok City Centre
Pathumwan is the centre of Bangkok city and a great place to enjoy the best boutique shopping and stylish bars and restaurants in Bangkok.
Possibly the best hotel in all Bangkok, the Siam Kempinski Hotel Bangkok is a 5-star hotel in Rama 1 Road, not far from Phanfa Bridge and Siam Paragon shopping centre.  The hotel is well located with access to Siam BTS Skytrain station through the Siam Paragon shopping centre. The rooms are huge and extremely comfortable with free tea and coffee making facilities, a mini bar fridge and a private balcony. The hotel has a turkish bath, three swimming pools and three restaurants. Rooms at Siam Kempinski Hotel start at 7,500 Bt and go up to about 18,000 Bt for the likes of you and I. If your name is Mick Jagger and you arrive in a private jet, the Terrace Suite might be more to your taste at 117,000 Bt per night, or more likely you'll snap up the Royal Suite for just 300,000 Bt (US$10,000) a night. But like most rooms here, it does include breakfast.
If you can't quite manage the room rates at Siam Kempinski, the Centara Watergate Pavillion Hotel Bangkok might be more to your liking. This modern 4-star hotel off Ratchadaprop Road near Platinum Fashion Mall and MBK Shopping Centre has rooms with spectacular city views starting at around 2500 Bt (US$80) per night for a Superior Family Room or Superior Double Room and going up to about 7,000 Bt per night for a Deluxe Family Residence. All rooms include breakfast. The Centara Watergate is also in easy walking distance of the new Airport Link rail line. It's a relaxed and very modern hotel with great good (including a top breakfast). One thing that will jump out at you though is that most of the guest here are Malaysian, Japanese, Chinese and Indonesian. It has a very Asian feel and you'll know right away that you're not in Kansas any more.
A very popular city centre hotel is the Old Bangkok Inn, a 3-star hotel in the grand lanna style of old Siam but thoroughly modern too. Its location on Phra Sumen Road near Ratchadamnoen Klang Road and Krung Kasem canal makes it an easy walk into the city centre but also accessible to the river via the canal longboats and ferries. The style of Old Bangkok Inn will leave you a bit breathless and the room rates compare favourably with Riva Surya starting at around 3,000 Bt for a twin or double room and ranging up to 5,600 Bt for the fabulous honeymoon suite. All rooms include breakfast and fantastic hospitality from the hotel staff. Some rooms have an outdoor shower in a private garden, which is something you can easily grow to love in Thailand, except for the odd mosquito.
Exploring Bangkok
Bangkok is the capital of Thailand and the country's largest city by far, with more than 11 million people. But for the most part it's not overcrowded like so many other huge cities in Asia. For the parts that most tourists get to see, it's still fairly manageable and not incredibly crowded. Well, that is except for the traffic which is like peak hour most of the day and absolutely gridlocked in the mornings and afternoons. So for getting around, I recommend the Chao Phraya River Express river boats and the Bangkok Skytrain.
Listed below are the districts of Bangkok that would be of interest to most travellers, and what you can expect to find in each district. However if you are only staying in Bangkok for one or two days, you might be better off to read Our favourite Bangkok day tours, which explores some fast track tours of this wonderful and diverse city.
The many faces of Bangkok
Bangkok is a city of contrasts – in fact it's one of those cities that's evolved from many smaller towns and villages coming together through amazing population growth and under various historical circumstances. It started out as a small river trading post when Thailand's capital was still in Ayutthaya. It did not become Thailand's capital until after Ayutthaya was destroyed in the lated 18th century, when the royal palace was built in the Rattanakosin district. Since that time it has, of course, grown like crazy and is now a city of about 12 million people.
The city is over 1500 square kilometres in size and is ranked as one of the largest cities in the world in terms of area. Although there are actually about 50 districts that make up Bangkok city, for most practical purposes there are 12 major "suburbs" in Bangkok where you're likely to stay or visit as a tourist, so we'll cover off on what each of them has to offer.
Take a look at our Bangkok location guides to see where you should stay and spend your time.
Dusit
North of Khao San Road along the Chao Praya River, this is the diplomatic quarter of Bangkok where the rich foreigners live. It's a suburb of wide, treelined avenues and gun-toting security guards, but an interesting place to take a long walk and peer over the fences into stunning mansions and magnificently manicured gardens.
Realistically just a little corner of Rattanakosin, this is the main tourist area of Bangkok, in my opinion. It's the centre of backpacker culture with booming street markets, bustling cafes to suit all tastes, a variety of good quality but still affordable hotels, little laneways that just beg to be explored, and of course the busy Chao Phraya River as an easy way in and out by river ferries.
Running up the mid north of the city between Dusit and Ratchadaphisek, this is bargain central in Bangkok – a shopper's paradise on steroids. Check out Best shopping on the BTS Skytrain and MRT Bangkok lines for more information.
Out to the east of Phaonyothin, north-east of the city centre, this area is huge but mainly suburban residential and largely unexplored by international tourists, even though most of them arrive here as this is the location of the main Suvarnabhumi international airport.
Just to the south of Khao San Road, Rattanakosin is the old Bangkok, built before it became a major tourist destination. It's also the location of some of the biggest tourist drawcards in Bangkok including the Grand Palace and Wat Phra Kaew.
The area north of Sukumvhit and east of Chatuchak, following Ratchadaphisek Road, was once a bit of a sideshow but is now full of interesting bars, nightclubs, bars, theatres and clubs. This is one of the top spots to find nightlife in Bangkok.
Siam Square is the shopping heart of Bangkok, home to the MBK Centre, the Siam Discovery Centre, the Siam Paragon, Pantip Plaza, Pratunam Market, Ratchaprasong shopping district and Sukhumvit Road shopping district. You could spend a week in Siam Square and still be finding shops you've not seen before.
Silom
If Siam Square is the shopping heart of Bangkok, Silom is the city's heartbeat … and also home to Bangkok's seedier side including the infamous Patpong with its strip joints and girly bars. You have to visit Patpong at least once or you really haven't seen all of Thailand.
If Khao San Road is the budget end of Bangkok, it's fair to say that Sukhumvit is the exact opposite. This is a suburb of expensive hotels, fancy apartment buildings, up-market restaurants, plus the notorious and seedy Patpong district.
Thonburi
There's more to Thonburi than temples and restaurants. In fact, it was for a short time the capital of Thailand between the sack of Ayutthaya and the development of Rattakosin. And you can still see the evidence of this period.
Bounded by Silom in the east and Rattanakosin in the north-west, Yaowarat is Bangkok's Chinatown, although it's probably fair to say the Indian community has as big a stake in the area these days as the Chinese.
Map of Bangkok's neighbourhoods